Ffestiniog Railway's 150-year-old steam loco takes ferry to Dublin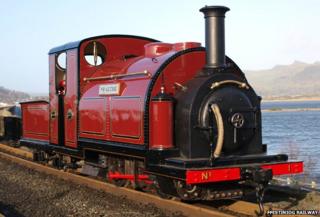 A historic steam railway engine is taking a ferry trip from Wales to Dublin to celebrate its 150th birthday.
Princess belongs to the Ffestiniog Railway in Gwynedd and was built in 1863 to haul slate trucks from the quarries in Blaenau Ffestiniog.
She was one of the first steam locos ever built for a narrow gauge line.
The visit marks a long standing connection between the railway and Ireland, home to many of the investors who provided money to build the line.
Two of Princess' sister engines are still in regular service 150 years later but they are hauling trains of tourists rather than trucks of slate.
Princess has been on static display since she last worked in the 1940s but has been specially repainted for her 150th birthday.
On Tuesday she was loaded onto a ferry at Holyhead port for the trip to Ireland.
Once there the historic loco will go on display at Heuston station in Dublin.
David Gwyn, historian and chairman of Ffestiniog Railway Heritage Ltd, said: "Princess was built in London and was part of a revolutionary new approach to secondary railways.
"Before she was built, narrow gauge steam locomotives had only been used for shunting over short distances.
"She was the first steam locomotive designed and built to operate trains over longer distances."
Ffestiniog Railway spokesman Andrew Thomas said the train's name reflected widespread public interest in the marriage of the Prince of Wales, the future King Edward VII, to Princess Alexandra of Denmark.
"Another locomotive in the same class was named Prince and is still in service today," he added.
"The introduction of these steam locomotives was a vital first step in the transformation of a well-engineered and well-run horse and gravity mineral railway into a state-of-the-art steam traction system worthy of emulation world-wide.
"The technology and skills developed on the Ffestiniog were exported around the world and led to the proliferation of narrow gauge railways in other countries where inexpensive and cost-effective systems were required.
Railways built in the trenches of World War I were even inspired by the Ffestiniog railway, Mr Thomas added.
Princess will be on display in Dublin from 6 June until mid July as part of The Gathering festival.