Moelfre lifeboat given last launch after 25 years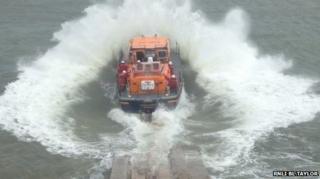 Around 300 people turned out to see the last launch of a lifeboat which has saved lives off the coast of Anglesey for the past 25 years.
The RNLI says the Tyne class Robert and Violet is the oldest operational RNLI lifeboat in the British Isles, but has been replaced by a bigger and faster vessel.
It has been launched 394 times, saved 92 lives and rescued 419 people.
Lifeboat station staff said it had been a "very emotional" occasion.
As a tribute two retired crew members were aboard the Robert and Violet on her last voyage on Friday.
Former second coxswain Tony Dennis and ex-assistant mechanic John Payne were part of the crew which sailed her to Anglesey for the first time from RNLI HQ in Poole, Dorset, a quarter of a century ago.
"Around 300 people turned up to watch, along with local school children," said Moelfre RNLI volunteer lifeboat press officer Dave Massey .
"It was very emotional, but it all went well and we've now got to look to the future."
As well as being the last time the Robert and Violet went down the slip-way it was also the last time for a big lifeboat to use the current boat-house and slipway.
"The station was built in 1909 but in a few months it will no longer be here," said Mr Massey.
"We're moving to temporary accommodation and then a new station will be built on the same site.
"It'll be a building sympathetic to its surroundings and decided on after public consultation," he added.
Memorable rescues for the old boat include a 1995 incident when two crew members broke legs during the rescue of a catamaran called Alleycat.
Rod Pace, now Moelfre RNLI lifeboat operations manager, said: "I broke my leg trying to transfer [from one boat to another] when my leg became trapped between the two boats and then another crew member, Dave Massey, was injured doing exactly the same manoeuvre, and he broke his ankle," said
In 2002 Mr Pace received a vellum award for a rescue with the Robert and Violet involving a yacht called Annarchy, which was being blown out to sea with two members of crew on board after its engine failed.
"It was blowing 50 knots and I had to transfer again from one boat to another, but it was successful that time," he said.
The yacht and her crew of five were saved.
New mission
The Robert and Violet has also been involved in unusual searches including one triggered by a car's GPS system on a P&O ferry travelling past Anglesey on the way to Ireland.
At the time the RNLI said it was a false alarm with good intention.
The long-serving vessel's £2.7m replacement Tamar class lifeboat, called Kiwi, was unveiled in March.
Mr Pace said the new boat will improve the lifesaving capabilities of Moelfre RNLI station because of its advanced technology and improved speed.
The Robert and Violet is not retiring but moving to help save lives off the Irish coast as the Lough Swilly Lifeboat in Co Donegal, Ireland.
"We wish her and her new volunteer crew all the very best," Mr Pace added.