Y Cyfnod and Corwen Times weekly newspapers are saved by new buyer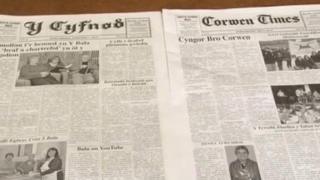 Two historic newspapers covering parts of Denbighshire and Gwynedd have been saved from closure by a new buyer.
The bilingual Y Cyfnod (period of time) - in the Bala area - and Corwen Times carry local news and events.
New owner Mari Williams said she faced a real challenge but felt there was a need for the weekly publications.
Former owners Gwyn and Eifion Evans of Gwasg y Sir (county press) said they ceased production 'due to events outside our control'.
Journalist and novelist Ms Williams, who runs a PR company in Llanuwchllyn near Bala, said she felt compelled to do something after listening to the local reaction when the papers came to an end.
"It was the only topic of conversation on the streets in the area and it was obvious that there was a place, and a future, for a newspaper like this," she told BBC Radio Cymru's Post Cyntaf.
But, she said, she now faced "a few challenges".
"One of the first things I have to do is to contact advertisers, attract new advertisers, and I need to have a good look at how things are going to work financially," she added.
"This is a personal enterprise for me but if the amount of goodwill and best wishes are anything to go by then I have with me the support of the community in this venture."
Ms Williams said negotiations to buy the publications had only taken "a few days" and it was now time to "sit down and work out how things will work on a practical level with contributors and an editor".
"I'm extremely grateful to be doing this with the backing of the former owners, the Evans family, and Aeron Jones who has been central to producing Y Cyfnod for years," she said.
Ms Williams said that for the time being the newspaper would carry on in its present print form, but in the future it might also feature an online version, although Y Cyfnod now has a Twitter account.
"My priority is to get Y Cyfnod back on the news stands and into the hands of the local people," she added.
Last week publishers Gwasg y Sir said it was unable to carry on producing the newspapers because of "events outside our control".