Blue-green algae at Llyn Alaw reservoir, Anglesey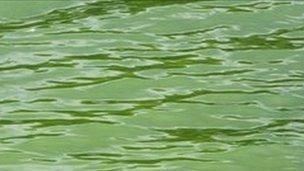 Potentially harmful blue-green algae has been found at an Anglesey reservoir.
Anglesey council has warned the public about restricted use of the area at the Llyn Alaw reservoir at Llantrisant.
The algae, cyanobacteria, produces toxins which can cause a variety of symptoms including vomiting, fever and brain damage in more sever cases.
Welsh Water said it posed no threat to drinking water in the area. Natural Resources Wales is monitoring the situation.
Visitors to the lake have been asked to take precautions.
Welsh Water will put up warning signs advising them not to swim in or swallow the water, to keep pets away and not to eat fish caught in the water.
A company spokesperson said: "The blue-green algae detected at Llyn Alaw poses no threat to the quality of the drinking water in the area.
"The water from the lake is treated to remove algae and we have special processes in place at our treatment works to ensure the water is of a consistently high standard."
Blue-green algae naturally occurs in the water.
It can cause skin rashes, nausea, vomiting, stomach pains, fever and headache if swallowed.
Occasionally, it can cause liver and brain damage and children are at greater risk than adults.