Anglesey council: Talks begin after election results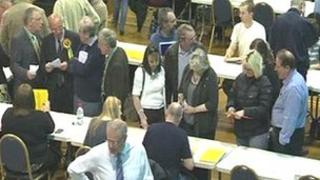 Talks are expected to begin in earnest to see how the new Anglesey council will be run, five days after voters went to the polls.
No party gained overall control in the vote which came a year after other Welsh authorities held elections.
Many independents who won the largest number of seats - 14 out of 30 - met on Monday night to decide how to proceed.
Plaid Cymru, with 12 seats, is the largest party and wants a coalition with the three Labour councillors.
Plaid, led on Anglesey by Bob Parry, has made it clear it wants to work with Labour, although the two parties would still be one short of an overall majority.
"You've got to remember that the independents at the moment haven't got 15, but we will, of course, be holding talks with the independent party as well and we will see what comes out of that," said Mr Parry.
"It will be more manageable, there's no doubt about that because we have lost a number of members who have firm views. They have gone and we have now a completely new council.
"And you've got to remember at the last election we had 14 or 15 new members as well, so some of the members have not been there all that long and I think that with the youngsters coming on there is a future for Anglesey."
The elections on the island were postponed for a year while the council was run by Welsh government-appointed commissioners to put an end to constant infighting.
The Liberal Democrats won one seat but the Conservatives failed to win any as did UKIP which fielded candidates in every ward. However UKIP's 7% share of the vote was bigger than the Tories' 6%.
The changes in the structure of the council are part of the effort to end the power struggles and disagreements.
Alwyn Rowlands, one of the three Labour councillors elected last week, has not been on the authority before but has many years of experience as an official with the union Unite.
He said any agreements must be stuck when they are thrashed out.
"One of the things that must be absolutely secure here is the long-term discipline of councillors in ensuring that once they've agreed that they've been allocated to a certain grouping that they stay within that group.
"Under no circumstances can we afford to return to the way that it was before we saw the commissioners come in," Mr Rowlands added.
"Because if that happens I have no doubt that Cardiff will say that enough is enough and they'll put another authority to look after Ynys Mon and that would be tragic."