Anglesey council election: Plaid willing to open talks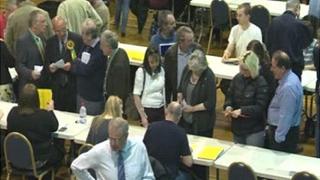 The Plaid Cymru group on Anglesey council is willing to open talks with Labour to try to build a coalition after the local elections.
The authority remained in no overall control with independents, who have dominated island politics for years, taking the largest number of seats - 14 out of 30.
Plaid leader Leanne Wood said she is confident her party, which won 12 seats, has a mandate.
Labour have three members.
The elections were postponed for a year while the council was run by Welsh government-appointed commissioners.
Ministers intervened after years of political infighting.
Plaid and Labour together make up half the council but are one short of an overall majority.
Ms Wood said no one party won an overall mandate to run Anglesey council but Plaid won 12 sears and a number of councillors narrowly lost.
"So overall our percentage of the vote is well within the range where we can claim to have a mandate".
She added: "Nobody has an overall mandate to run the council, the independents don't have either.
"This is where coalition building will now begin and there is a huge amount of cynicism, and dare I say scepticism, towards the independents because of the history there."
Ms Wood said talks would take place of the weekend to find a way forward.
The Liberal Democrats won one seat.
The Conservatives failed to win any seats in Thursday's election, as did UKIP which fielded candidates in every ward.
However UKIP's 7% share of the vote was bigger than the Tories' 6%.
Power 'broken'
Former Plaid leader Ieuan Wyn Jones, the island's AM, said it would be difficult for his party to form a pact with independents, adding: "Political parties have a responsibility to deliver."
Although independents still have a big presence on the council, Mr Jones said: "I think their power has been broken".
"We have really seen a sea change in this election," he said.
"The new council will be determined I think to make sure that the services provided here are things that people want across the island."
Independent Jeffrey Evans, who was elected in the Ynys Gybi ward, said he hoped any deal-making to form an administration would be done "with honesty, dignity and respect".
The number of seats on the council has been cut from 40 to 30, and 11 new multi-member wards were created.
There were some notable defeats.
Former independent council leader Bryan Owen lost his seat, as did Labour group leader John Chorlton.
Mr Owen said: "There's been some gerrymandering [manipulation of boundaries] to be honest with you and I believe that it's been done to favour the political parties."
He lost out to a clean sweep by three Plaid candidates in the Canolbarth Mon ward.