North Wales' new rural police meet farmers at Dolgellau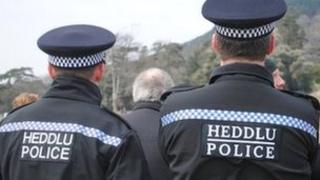 Newly-appointed police and community support officers with the brief to cut rural crime have met farmers in north Wales for the first time.
They are similar to their urban counterparts and wear police uniform - albeit often with wellingtons.
They will be known as farm liaison officers and have the same role as a police community support officers.
As the meeting was held, it emerged that 40 sheep and 45 lambs had been stolen in Denbighshire.
The animals are believed to have been taken some time between 15:00 BST on Monday 29 April and 08:30 on Wednesday 1 May from a field known as Tan y Mynydd in Llanelidan, Ruthin.
Two Gwynedd officers joined North Wales Police at Dolgellau Farmers Mart as part of the new initiative.
The main duty of officers such as PCSOs Elliw Williams and Llinos Jones is to build relationships with farmers, and they will review rural crime, contact victims and build a rapport with the farmers.
Police say there has been a rise in rural crime, with metal theft and rising fuel and livestock prices, and the meeting will allow the the newly appointed farm liaison officers to meet the local farming community to discuss how the police and farming unions can work together.
Insp Mark Armstrong of North Wales Police said the relationship between the police and the farm liaison officers was a two-way street.
"The farm liaison officers link in with police daily... we bring things to each others' attention."
Some of the farm liaison officers are from farming backgrounds themselves, which Insp Armstrong said can help with the job.
'Regular contact'
"PCSO Elliw Williams is a farmer's daughter and married to a farmer," he said. "Her background helps her to build a relationship with the farming community because she understands the issues.
"The farmers are talking to people who understand their concerns.
"It is important that they [farm liaison officers] develop experience in farming and a knowledge of farmers and of the area... and that they make regular contact with the community," said Huw Jones, of the Farmers' Union of Wales in the old county of Meirionnydd.
"We'd like them to visit markets and attend meetings and visit the victims of crime soon after the event. Farmers are most worried about theft of livestock and machinery."
Issues for farmers to be aware of include suspicious callers.
Mr Jones said they need to "check whether callers know the area. See if they have any local knowledge... if they are acting suspiciously... take note of registration numbers on cars or take a photograph of the number plate".
Some of the sheep stolen near Ruthin have D E stamped in green ink on their right hand side whilst others have have the marking J on their right hand side in red ink. The J is distinctive as it is written the wrong way round.
Some of the sheep have a yellow tag with the farm code UK705938 and others a red tag in both ears.