Manic Street Preachers in Australia for Lions rugby tour
2 May 2013

From the section

Wales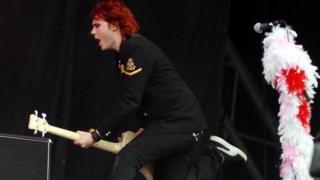 Welsh band Manic Street Preachers have announced gigs in Australia so they can follow this summer's 2013 British and Irish Lions tour.
Their announcement follows news that 15 Wales players will be among the 37-man squad for the 10-match tour.
The "massive rugby fans" describe the prospect of watching the team take on Australia as an "once in a lifetime opportunity".
The band's song Australia was used in tourist board ad campaigns.
Bass player Nicky Wire told BBC Radio Wales: "The dangling carrot was that we'd never been to New Zealand. We could go to Australia, see the Lions and hop over to New Zealand.
"We've never been to New Zealand and we have a lot of Australian fans. It all came together in the most magical way."
The group called themselves "massive rugby fans" and the chance to play some gigs and watch the Lions play Australia was described as "an amazing once in a lifetime opportunity".
Wire added: "The Lions are a rare animal to see".
As for the show audiences, he said there would be a mix of "feather boas" and "middle-aged men in rugby tops".
Break
"We can't wait to play a selection of our greatest hits to our Australian fans and the thousands of Lions fans travelling Down Under."
The Manic Street Preachers travel to Australia in late June to play shows in Melbourne and Sydney to coincide with matches against the Wallabies.
They will also travel to Auckland, New Zealand, during a break between games.
In September the band are due to play Festival No 6 at the village of Portmeirion in Gwynedd.
It attracted 6,500 people when held for the first time last year.