Mum's 'nightmare' since son Carl Hughes killed in crash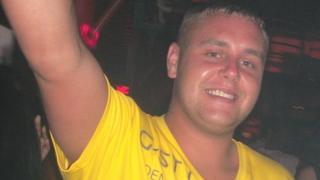 The mother of a young man who died when his car crashed into a wall says she has been living a nightmare ever since.
Carl Hughes, 22, was under the influence of drugs and alcohol when he lost control of the vehicle near Gaerwen on Anglesey two years ago.
Susan Hughes is supporting a scheme by North Wales Police aimed at drink and drug drivers.
She hopes talking about the impact of her son's death on the family will prompt other drivers to be careful.
"This has had a massive effect on the family and we are all completely devastated," she said.
"Our lives will never be the same again.
"I'll never forget that night when we were told what had happened.
"Words can't describe how we feel about Carl's death. We support this campaign as we don't want another family to go through the nightmare we are experiencing."
Mr Hughes, or Carl 'Felin' as he was known to friends, died following the crash which happened in the early hours of 26 March, 2011 on the A5 near Gaerwen.
He had been driving a BMW with three passengers when he lost control of the car and collided with a wall.
Tests showed that he had taken drugs, was over the legal drink-drive limit and was not wearing a seatbelt.
"I know he wasn't much over the limit but that doesn't matter, you shouldn't drink or take drugs and drive a car," Mrs Hughes told BBC Radio Wales.
"It makes me cross that he wasn't wearing a [seat]belt. If he was wearing a belt, Carl would still be with me today and I wouldn't be living a nightmare."
Mr Hughes' partner Eleri Thomas, with whom he had a son, is also backing the campaign.
"Thankfully our son Gethin is still too young to fully understand but when he's older we will tell him all about Carl and how kind he was with people," she said.
Operation Sodium started last summer and North Wales Police are continuing to try to tackle drink and drug driving among young people aged between 17 and 25 years old.
It was launched in response to the growing number of young people who were being killed on north Wales roads, especially rural roads.
The campaign involves "covert and overt tactics" including stopping vehicles and, where appropriate, breathalysing drivers.