Cartrefi Conwy housing repair staff in redundancy move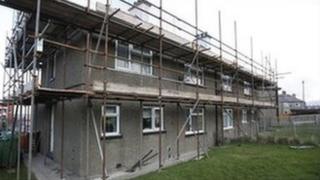 All 33 staff in a housing association's building maintenance unit face compulsory redundancy after talks to renegotiate their contract broke down.
Cartrefi Conwy, which has more than 3,700 properties across Conwy, said the trades people need to work more flexibly if the unit is to stay viable.
It said it had offered an 11% rise and an £850 one-off payment if they agreed to work a 42-hour week instead of 37.
Unions said they were "shocked" at the housing association's "bullying ploy".
The joint unions at the unit - GMB, Unite and Unison - said they are to ballot for industrial action.
A spokesperson for Cartrefi Conwy said the housing association wanted to the workers to be able to "respond to the needs of the tenants and the business in the evening" and had made an "excellent and generous offer".
He said: "We are extremely disappointed that despite months of negotiation we have been unable to reach agreement with the trades unions.
"Over the next five years existing work within the unit will not be sufficient to maintain current levels of employment in undertaking routine repairs, and to remain viable.
"The board have accepted the need for the building maintenance unit (BMU) to take on some planned programme works subject to the new terms and conditions being implemented and to seek further work in the wider community.
"We know that other housing providers have developed such services successfully but to win work we must be able to compete successfully with the commercial sector."
The housing body said the current offer on the table would be followed by pay increase of 4.5% next month and a further 2% increase from April 2014.
The spokesman said: "Failure to reach agreement would undermine the viability of the BMU.
"As consequence, we are having to implement a 45-day consultation period which could unfortunately result in people being made redundant."
The joint unions said the housing body was trying to force through "significant changes" to their members terms and conditions and they criticised the redundancy consultation.
In a statement, they said: "This is clearly a bullying ploy designed to cause anxiety and force the workforce to accept the new contracts of employment."
Paddy McNaught, of Unite, said: "Management have refused to involve ACAS [the conciliation service], which begs the question - do they want to find agreement?"