Drug dealer David Thomas jailed after Thomas Jones's death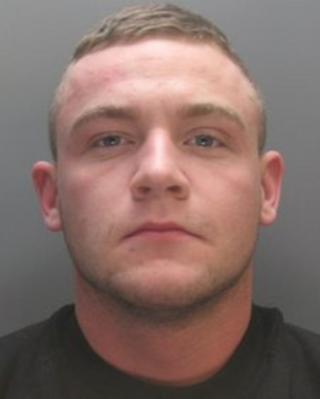 A drug dealer who supplied drugs to a teenager who later died has been jailed for three years.
David Thomas, 20, of Menai Bridge, Anglesey, pleaded guilty to supplying ecstasy and cocaine to Thomas Jones, of Llangefni, on 1 February.
Caernarfon Crown Court heard that Mr Jones, 19, described as popular and a keen footballer, had died the day after obtaining 15 green pills.
The judge said Thomas was a "prolific source of drugs in Llangefni".
Thomas also admitted supplying the drugs at Bangor to unknown customers between May last year and February this year, supplying cannabis, and possessing drugs with intent to supply.
The court heard that Thomas paid £600 for 200 pills and arranged to supply 15 of them and cocaine to Mr Jones for £140.
Prosecutor Kate Meredith-Jones said Thomas had been detained by bouncers at a Bangor nightclub in February 2012 and had cocaine and nine ecstasy tablets.
He was then jailed for burglary, before being freed.
The court heard that last month Mr Jones went to a pub with friends and while he was out had obtained 15 pills.
He became unwell and died the following day after being taken to Ysbyty Gwynedd in Bangor.
The prosecutor said Thomas had told police that after his release from prison in May last year he began selling cannabis then cocaine to fund his own addiction.
Two weeks before Mr Jones's death, he began selling drugs to him.
Defence barrister Kim Halsall said: "All these offences are against the background of this young man [Thomas] unfortunately being a consumer of drugs since the age of 16, initially cannabis and moving on to cocaine."
The court heard he had remained free of drugs in custody and hoped to rebuild bridges with his parents.
Judge Niclas Parry told Thomas: "On February 1 a young life was lost. A 19-year-old man died because he had taken drugs that you had supplied."
He added: "You were supplying and risking lives for personal profit."
Det Ch Insp Andrew Williams, the officer who led the investigation into the supply of the "green apples" tablets, said after the hearing that he welcomed the outcome.
"It is really important that people remember this investigation commenced following a tragedy," he said.
"There is no way a person purchasing a tablet at a party, festival or wherever can know what they are taking or how it will affect them. The consequences can be immediate and severe."