Environment Agency: Carp-eating otters claims 'hopeless'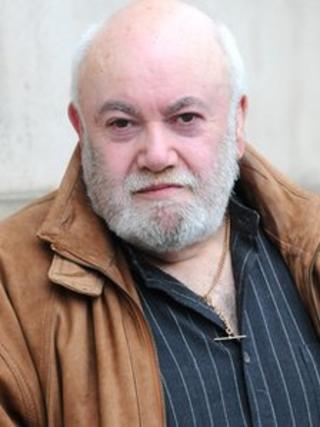 A fish farmer who claims his business was ruined after otters ate all of his 22,000 prized carp has been told his argument for damages is "hopeless".
Brian Dodson, 60, is suing the Environment Agency for £2m after his stock, worth more than £250,000, was eaten near Bangor in Gwynedd.
Mr Dodson claims the agency built otter holts on a river to encourage them.
But an expert for the agency told the High Court in Cardiff that the measures had no impact on otter numbers.
The agency also said Mr Dobson's argument that it had a duty to inform him there were otters on a river near his fishery was "hopeless".
Fish bones
Mr Dodson claims the agency is guilty of a breach of duty by building the holts to encourage otters to settle and breed on the River Cegin - less than two miles away from his Waen Wen Fishery in the the village of Tregarth.
The court heard he went to check on his fish stocks in 2009 but all he found was fish bones after the animals had stripped the flesh off them.
Former oil and gas refinery engineer Mr Dodson subsequently went bust and is now living with his son on state sickness benefits.
He is suing the agency for £2m to cover the loss of income he believes he would have recouped from anglers using his fishery.
His legal action is being regarded as a landmark case for fishery owners across the country who have had similar issues with otters.
Mr Dodson claims the agency is constructing otter holts across England and Wales unsupervised and could be having a significant impact on fish farm operations.
"They have 'carte blanche' to do what they like," he told the court.
He argued that their actions caused the otter population to rise, something he would have guarded against had he known of it.
He also claimed that when he established the fish farm local people told him that the River Cegin had no otters living in it.
'Availability of food'
The Environment Agency denies breaching the rules governing the way it operates and claims Mr Dobson was responsible for overseeing his own interests.
Paul Chanin, an expert on otters brought in by the agency, told the court that building otter holts had no impact on the animal's numbers.
"For a long time people were putting up otter holts because they thought that it would be good for otters," he said.
He said that that view had now changed and it was his opinion that building holts made no difference.
"We still build otter holts but it is not, strictly speaking, helping the otter," he added.
"They are not very picky about where they live."
He said that poisoning water and the availability of food was what made a difference to otter numbers in the wild.
Louis Browne, for the agency, said that it did not have a duty to inform Mr Dobson that he had made an error by concluding, based on anecdotal evidence, that there were no otters in the River Cegin.
"With respect, that is a hopeless argument," he told Judge Andrew Keyser.
The judge adjourned the case and said he would give a judgment on Thursday.