Cathedral area in Bangor has Wales' fewest number of Christians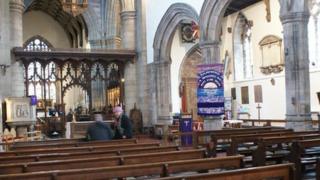 The small north Wales city of Bangor has had a strong Christian presence for centuries.
At its heart is St Deiniol's Cathedral, on a site where worship has gone on for more than 1,500 years.
So it is curious that the area which takes its name from one of the oldest cathedral sites in the UK has the fewest number of Christians in Wales.
The latest census figures showed that the Deiniol ward has only 36.1% who call themselves Christian.
Of course, it is not unique in seeing a religious decline: the 2011 Census found that 32% of people in Wales say they have no religion.
But a total of 58% (1.8m) still gave Christianity as their belief - although that has fallen 14% since 2001, which is a bigger drop than any English region.
So why does Deiniol have such a low Christian population? A clear reason for the statistic appears to be its proximity to Bangor University.
The figures are "a concern but not surprising," said the Reverend Canon Nia Catrin Williams.
"There are 1,830 people in the ward, but around 900 of those are aged 19-22, and many of them are overseas students staying in one of the halls of residence in the area," said Canon Nia, as she is known.
Cathedrals are very different to parish churches too, because they administer to a wide range of people, not just those who choose to worship there, she said.
On the bitterly cold day of my visit prayers are being read as people wander in and out.
Some people sit deep in contemplation, others linger to speak to one of the volunteer stewards or stop for a cup of tea.
There is a shop selling Christian books and fair trade items, and three times a week a food bank hands out parcels.
"Whatever their beliefs many people come into the cathedral," said Canon Nia. "It's a place people can come to if they need to think, to mourn, to take a minute - there is always a chaplain available."
The work of the clergy is supported by volunteers like stewards Michael and Andrew.
"It gives me happiness and purpose, and I enjoy meeting people and showing them around," said Michael.
"I do it entirely on a voluntary basis but I'm here every day. It has helped me to rediscover my faith too as I was brought up a Roman Catholic."
Andrew, who found solace there after he lost his father, says there can be between 40 and 50 visitors every day.
"One of the most common questions - especially from children - is 'where are the mice?' as there are five hidden around the church and they can do a sort of treasure hunt to find them. I find being here very rewarding."
Heather Hulton, who volunteers with the food bank, says the cathedral is very important in the community "but we're not good at shouting about it from the roof tops".
"There are people in great need and we're doing something for them that they are very grateful for," she said.
The food parcels are becoming increasingly important and Canon Nia said she thinks things are going to get worse when welfare reforms come in in April.
"We're finding that some who are working even find they don't have a penny left by the end of the month."
Her ministry includes links with Bangor University, where the psychology department is researching just who uses the cathedral.
The cathedral has its own Facebook page and Coleg Menai students have been drafted in to make the website - currently being updated - more appealing.
"We have to think of new ways to convey the Christian message.
"It is a challenge for us all to try to put the message across in a contemporary way," said Canon Nia.