Caernarfon traders bid to share Castle Square market space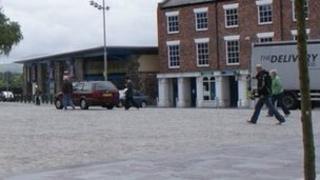 Businesses in Caernarfon want to share the ancient rights of market traders to hold events on the main town square on Saturdays and Mondays.
The local chamber of trade already arranges events such as a Victorian fair and music on the square, but never on a Saturday.
The chamber says the market traders back the bid and a petition in the town is asking for public support.
Gwynedd council said it was examining possible options for the area.
Castle Square - known by everyone in the town as Y Maes - lies in the shadow of Caernarfon Castle where the investiture of Prince Charles as Prince of Wales was held on 1 July 1969.
Chris Stuhlfelder, chairman of the chamber of trade's, says an "ancient" law permits the market on the square, "and we can't change that".
"We would like to see part of Castle Square closed off to traffic however, to allow enough room for our events to be run at the same time as the market.
Local opinion
"We've spoken to the market traders and they've said they would be happy to join in with events such as our Victorian Fair.
"In a bid to foresee questions the council might ask us we're now asking local people to see if they like the idea, and so far we've got hundreds of names collected on a petition supporting our call."
Responding to the request, Gwynedd council confirmed that it held meetings in November with bodies in the town, including the chamber of trade.
Aled Davies, head of the council's regulatory service, said: "At this meeting it was agreed to look into the possibility of closing access through parts of Castle Square so that both the market and other events could safely be held at the same time for short periods.
He said his department was "looking at the different options" for the square.
"When this assessment is completed, further discussions will be held with relevant groups to decide on the best way forward," he added.