Royal Marine Ben Tate died after going too fast for a bend, coroner says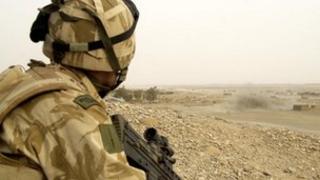 A Royal Marine who died after hitting a stationary vehicle and an oncoming car on a motorcycle training course was going too fast for a bend, an inquest has heard.
L/Cpl Ben Tate, 30, of Lincoln, was riding a 1,000cc machine when he crashed at Pantperthog, Gwynedd.
The inquest heard he went into the bend at a maximum speed of 65mph (105km/h).
Coroner Dewi Prichard-Jones recorded a narrative verdict in respect of the fatal crash in June 2011.
He said that the marine was riding around a left-hand bend when he collided with a stationary camper van and suffered injuries which led to his death.
The coroner said both the marine and his police instructor who was riding behind him had made a misjudgement.
Low speed
The collision happened on the winding A487 at Pantperthog, north of Machynlleth, when the lance corporal and another serviceman - identified only as Soldier A - were on an advance trained course supervised by PC Keith Young of the West Mercia Police force.
PC Young was unfit to give evidence and his statement was read to the hearing.
The coroner said it was a West Mercia Police course to improve skills, not necessarily high speed, and the riders were to ride within their comfort zone.
The camper van was preparing to turn right but it would have taken L/Cpl Tate a second or two to assess the situation and brake, he said.
The collision had been at a low speed and was with the motorcycle, not the rider.
But the rider was thrown to his offside and there was a collision with an oncoming Vauxhall Insignia car, which killed him.
If the car had not been approaching the crash would have been survivable, the coroner said.
He said it was his belief that the collision occurred because of speed.
The speed the servicemen were travelling at, although not reckless, was such that the reaction time had to be very short, added the coroner.