Sean Tierney gets life for attempting to murder neighbours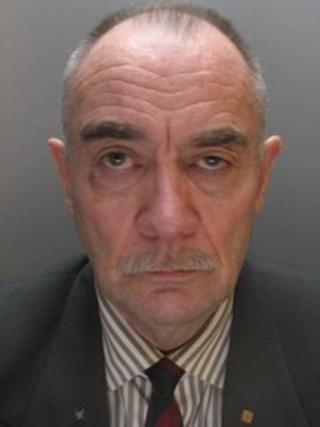 A man who tried to kill his retired neighbours in a row over noise has been jailed for life.
Nigel and Margery Gibbs from Llandudno, Conwy, were "lucky" to survive after being stabbed repeatedly in an attack aimed at teaching them "a lesson".
Defendant Sean Hedley Tierney, 66, was told he must serve a minimum of 15 years for carrying out the attack last August.
He admitted attempted murder at Mold Crown Court.
The defendant changed his plea to guilty before his trial was due to start on Monday.
'He had to go'
After the sentencing hearing, Mr and Mrs Gibbs said in a statement: "We are both positive people and wish to put the incident behind us, but the attack has affected our confidence.
"We would not like Sean Tierney to be able to inflict such pain on any other person and we will not let him ruin our lives."
The court heard on Monday how Mr Gibbs, 66, was using a power saw outside when he was suddenly confronted by the defendant who held a knife to his face and said he was going to teach him a lesson.
Mr Gibbs was stabbed in the chest and as he fled to a neighbour's home to get help Tierney followed and tried to stab him again.
Prosecuting barrister Simon Mills told how Tierney then ran into the Gibbs' flat, below his own, "like a zombie" and repeatedly stabbed Mrs Gibbs, 67, as she called police.
A recording of her 999 call was played to the court.
She just started to get her words out when she was stabbed and she could be heard screaming loudly for help.
Judge Merfyn Hughes QC was told that both, but particularly Mrs Gibbs, were lucky to have survived the attack on August 20 last year.
Tierney, who claims not to remember anything of the attack, then left an answer phone message for a friend in which he believed he had killed them.
'No apparent reason'
Tierney said of Mr Gibbs: "It had to happen, he won't give up creating problems for me, mechanically sawing deliberately without informing me of all the noise, so he's just a wind up, so he had to go."
Tierney pleaded guilty to attempted murder although it was his case that he had no recollection.
In police interview, he said that he had been using his knife to remove stones from his boots while sitting on the stairs but he denied going outside or being responsible for the stabbings.
The court heard that Mrs Gibbs, 67, thought she had lost her husband in the attack and did not think that she herself would have survived.
She is awaiting further surgery to her hand and has not regained movement.
Sentencing, Judge Hughes said Tierney had destroyed his victims' lives, adding that "they will never recapture the happy days that in their retirement they were enjoying".
He said: "I have not detected the slightest flicker of remorse for what you did."
The court was told that the neighbours had been friends and the Gibbs had looked after his cat Rabo while he went away to an air show.
But he took exception to the fact that they threw some mouldy food out of his fridge, emptied the cat litter and did some cleaning.
He sent them an email and while later discussing it, it was alleged that he punched Mr Gibbs.
After the hearing, Det Insp Iestyn Davies from North Wales Police said the couple were stabbed for "no apparent reason".
"Both Nigel and Marjorie Gibbs received serious injuries and it is due to their strength and determination, together with the skill of the medical staff that they have survived," he said.