Coed y Brenin forest 'king' tree felled after rot found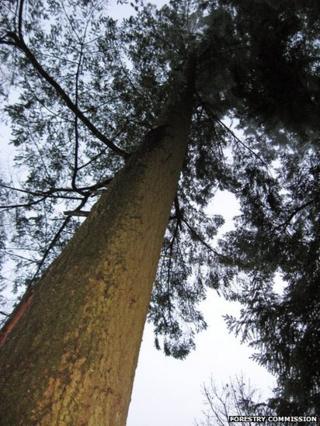 The largest tree in a Gwynedd woodland has been felled due to rot.
The Douglas fir - dubbed The King - had for 85 years dominated the Coed y Brenin woodland, which translates as King's Trees.
Due to its 55 metre (180ft) height and its location, experts took it down in sections to prevent damage to the surroundings.
The hunt is now on to find a successor on the 40 hectare site near Dolgellau.
"It's a bit of a sad day as The King is being felled but it was deemed unsafe after rot was found at the bottom," said Aled Thomas, local area manager for Coed y Brenin with Forestry Commission Wales.
"We bring people to see the king along this path - which is called the King's Guards - and it is very popular within the woods."
Usually any trees felled would be removed and sent to the mill, but as it is The King, the plan is to keep it in the woodland, he said.
"We will use it to create an interpretation area, perhaps make a bench and perhaps get the children from the school in nearby Ganllwyd to help us with that interpretation work.
"There's always a successor too and there are many large trees in the woodland and between now and Christmas it will be my job to find the next king," he added.
Specialist Rhun Jones said removing the tree was tricky.
"Size is not the problem - it's the split at the bottom, and it's leaning quite heavily towards the river and the road," he said.
"We decided it was safer to put a couple of wire ropes and winches on it and to fell it in pieces from the top down to avoid the river and damage to any other trees as much as possible," he added.