Gwynedd council apology over road sign spelling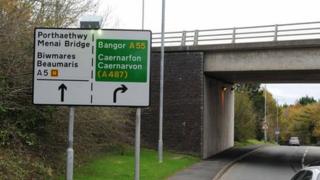 Council officials have apologised after the anglicised spelling of Caernarfon appeared on a new road sign.
Although the sign, featuring a 'v' instead of the 'f' in the name, is near the Britannia Bridge on Anglesey, Gwynedd council said it was responsible.
The authority admitted it should have checked the spelling beforehand and that the sign will be changed.
Arfon AM Alun Ffred Jones called it a "ridiculous error".
Mr Jones said: "It is around 40 years since 'Caernarvon' was replaced by the correct Welsh form Caernarfon as the only official name for the town.
"It is astonishing that the anglicised version has suddenly been resurrected after all these years on a road which is the responsibility of the Welsh government.
"This is a ridiculous error on someone's part, and should be corrected immediately."
A Gwynedd council spokesperson said: "We can confirm that Gwynedd council is responsible for putting up the new road sign and we apologise for not checking the wording beforehand.
"We have contacted the sign manufacturers and they are aware of their mistake and have taken responsibility."
Work to correct the mistake will be carried out "as soon as possible", the spokesperson added.