Builder John Leslie Davies banned from working for oaps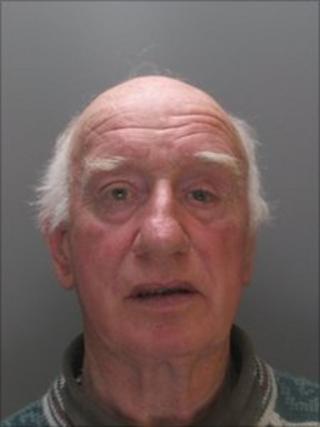 A builder who was jailed for fraud and theft has been banned from doing property renovations and repairs for elderly people.
Mold Crown Court told John Leslie Davies, 67, he must also repay £96,000 or have another two years added to a four-and-a-half year jail sentence.
The conditions form part of a serious crime prevention order to curb his activities once he leaves prison.
Davies from Waunfawr, Gwynedd is due to be released in April next year.
The 67-year-old is currently in jail after admitting 18 charges of fraud, theft, concealing criminal property and procuring the execution of a valuable security by deception.
His partner Rhian Jones was convicted of five charges and jailed for two years.
Cash limit
When Davies was jailed last year, the court heard the couple befriended elderly women from Llanystumdwy, Pwllheli and Abergele - aged 80, 75 and 74.
One victim was defrauded out of nearly £95,000 "by a toxic mix of charm and threats".
The pair went on foreign holidays and cruises with some of the proceeds, the court was told.
The order now bans Davies from working for elderly people by doing property renovations and repairs, painting and decorating, gardening or resurfacing driveways.
He is also banned from making unsolicited calls for such work.
Other restrictions ban him from having more than £1,000 in cash on him at any one time, unless he has police consent.
Davies must also register his address with the police and must notify the force of any temporary address.
Judge Merfyn Hughes QC was told Davies had accumulated £432,392 from his crimes.
Investigation
The judge ordered that £92,262 be confiscated and paid within 28 days or Davies will have to serve an additional two years in prison.
The money comes from cash found in his house and money placed in various bank accounts.
Prosecutor Simon Medland QC said the prosecution suspected they had still not found all the defendant's assets.
Davies had admitted crimes amounting to £163,970 but the investigation revealed thousands of pounds of payments into his various accounts from unknown sources.
Andrew McInnes, defending, said it was his client's case that all the money was legitimate.
In evidence, Davies said that it was "all legal" and came from his work as an odd job building, and the buying and selling of caravans and motor homes, although he had no documents to back up his claims.
He said he only pleaded guilty to the latest offences, on advice, after a stroke.
"I was told to throw my hand in, more fool me," he said.
In June, his partner was found to have a criminal benefit of £262,338 which she was ordered to pay in full, the court heard.
It was made up of cash in three bank accounts and the sale of their home in Waunfawr.