Abergele's link with Jamaica Olympics team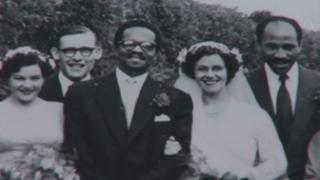 At first thought, finding a connection with the Caribbean island of Jamaica and the small Welsh coastal town of Abergele seems remote.
But dig a little deeper and it becomes clear that one family has more than a little to do with connecting the two places.
And athletes like Usain Bolt also play a part in that link.
Erinwen Johnson from Abergele said the Jamaican success in athletics comes in no small part to her nephew Dennis Johnson - who she credits with being the reason Jamaica has training facilities.
Sprinter Dennis, who is a household name in his home country, ran the Jamaican Olympic team for many years.
Mrs Johnson said her nephew's expertise had helped shape athletes like Usain Bolt.
She met and fell in love with Johnson's uncle, Struddi, after he came to London for the 1948 Olympic games.
"We met in 1951 because after the Olympics he could not afford to go back home so he had been saving for his fare," she said.
"He was one of nine children and the eldest, Osric, had two children, one of whom was Dennis.
"Dennis was a great runner but there were no facilities for training in Jamaica so he went to America and whilst there in 1961 he ran a race in San Jose and he was the fastest man on the planet - the Usain Bolt of his day."
After his running career Johnson returned to Jamaica and established a centre at the University of Technology for athletics training.
"He was in charge of the Jamaican Olympic team for many years and Jamaican runners from all over the world owe a debt to Dennis," she added.
Sturddi Johnson died 10 years ago, but London 2012 has brought memories flooding back for his widow.
"I met him when I was 18 and he was a very stylish man," she said.
Although the couple's grown-up children have not inherited the running gene there is another Olympic link.
Daughter Cathryn Johnson, an author who lives in Hackney in London, was one of the panel responsible for selecting the medal designs for the 2012 Olympic and Paralympic games.
"When my name was put forward (for the medal panel) I was thrilled," she said.
"I had been quite a cynic about the Olympics but because my father had come to London because of the games I said yes, and it was lovely, a really nice experience," she added.
An open-air festival of Jamaican music, food, lifestyle, and children's activities will take place in Barry, in the Vale of Glamorgan this weekend, 3-5 August, to mark the 50th anniversary of independence in Jamaica. Supported by the Jamaican High Commission it is expected to attract the Caribbean community from all over the UK.