Diver Steven Barnard's bravery award for quarry rescue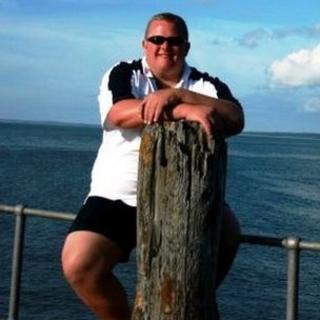 An scuba diver is to receive a bravery award for carrying out a rescue during an underwater incident in a Gwynedd quarry.
Steven Barnard saved a fellow diver during complications at Dorothea Quarry, Nantlle, last December.
The Royal Humane Society is to present Mr Barnard, 30, one of the UK's highest civilian bravery honours.
He was recently an Olympic torchbearer, nominated for his work in sports coaching in Bangor and diver training.
Diver instructor Mr Barnard, 30, from Brynsiencyn, Anglesey, was on a dive with others when one began to descend quickly.
Believing something to be wrong he pursued the diver, friend David Hartley from Bangor, and found him semi conscious.
"He was a lucky guy," said Mr Barnard, who was recognised as The British Universities and Colleges Sports (BUCS) Volunteer of The Year for his contribution to sports in higher education.
Mr Barnard, who carried the Olympic torch at Morecambe in June, tried to return the diver to the surface when he began convulsing.
As Mr Barnard's mask became dislodged, his companion "disappeared in a cloud of silt" at a depth of 57m after 25 minutes in the water, according to society secretary Dick Wilkinson.
He described the incident as a "remarkable rescue" saying Mr Barnard calculated he had enough air for one last search realising that if he failed the diver would die.
Mr Wilkinson said: "Using his torch, he detected a small stream of bubbles and dived through the silt cloud to find Mr Hartley.
"Mr Barnard started to take Mr Hartley upwards but their ascent became uncontrollable.
"Mr Barnard had to puncture the left leg of Mr Hartley's now-inflated suit to dump air from it and slow them down."
The concern was ascending too quickly would cause the pair to suffer decompression sickness, also known as the bends.
Mr Wilkinson said: "He chose to rise to a point where he could release the now breathing Mr Hartley to rise slowly under his own buoyancy, remaining there to decompress to avoid becoming a casualty himself."
On the surface he gave first aid before Mr Hartley was flown by RAF helicopter to a hospital decompression unit for treatment and where he was "virtually fully recovered" the following day.
The friends have since been diving together.
Dr Rohan Holt, who manages a diving team of marine biologists, recommended Mr Barnard for an award and the society selected him for a silver medal.
Mr Barnard is studying at Bangor University for a masters degree in marine environmental protection where he was voted the university's sportsman of the year for 2011.