Unemployment rate rises by 2,000 in Wales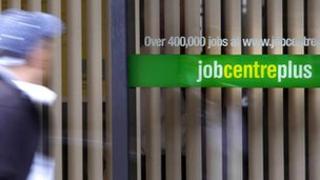 Unemployment in Wales has risen slightly in the last quarter, latest figures show.
A total of 2,000 extra are out of work, taking the total up to 133,000, a rate of 9%, compared to the UK's 8.1%.
Welsh Secretary Cheryl Gillan was "disappointed but not surprised," and urged firms to seize the opportunities of rail electrification to Swansea.
Business Minister Edwina Hart said the Welsh government was doing all it could to support and encourage companies.
Mrs Gillan said the Office of National Statistics figures showed the labour market "remains a complex picture in Wales".
"After several months of relatively positive news for employment in Wales I am disappointed though not surprised with today's figures.
"They demonstrate the continued fragility of the labour market in Wales which, coupled with wider uncertainty in the Eurozone and other international markets."
Mrs Gillan added: "The UK government is working to create improved economic conditions across Wales, with lower corporate taxes, investment in broadband and mobile communications, and support for jobseekers through schemes like the Work Programme and Youth Contract.
"We also cannot underestimate the significance of the announcement on Monday, which will see more than £350m of direct investment in the Welsh railway infrastructure.
"While the project itself will not be completed for several years, it sends out a strong message now to potential investors about the UK government's commitment to invest in Wales' future and to bridging the economic divide between parts of the UK."
Mrs Hart said: "These statistics are clearly disappointing and show people and businesses across Wales are continuing to face real challenges as a result of the double-dip recession in the UK economy, made worse by the difficult and uncertain global economic climate," she said.
Mrs Hart said the Welsh government was doing all it could to encourage business and its programme "places jobs right at the heart of what we do".
She said this included "a £3bn investment in Welsh infrastructure projects and innovative grant schemes such as the Welsh Economic Growth Fund".
"To date this fund has committed more than £31m to support 118 business investment projects around Wales, with the potential to create some 1,800 jobs and safeguard another 1,600 jobs.
"Young people and women are being particularly hit hard and we are doing all we can to provide additional support to help them into employment through schemes like Jobs Growth Wales, aiming to create 12,000 jobs for 18-24 year olds over the next three years, and improved childcare support."