Helicopter in kayakers rescue off Point Lynas, Anglesey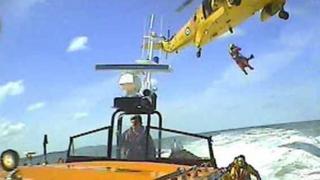 A kayaking couple who became separated and ended up in the water off Anglesey for about 40 minutes have been rescued.
The woman was airlifted to hospital with mild hypothermia by an RAF Sea King helicopter.
The man was taken to safety on shore after someone on shore spotted that they were in trouble.
Other kayakers who were at the scene off Point Lynas guided the helicopter with a radio and smoke flare.
Emergency teams, including the Moelfre all-weather RNLI lifeboat, and Moelfre Coastguard were alerted at about 13:00 BST on Saturday by Holyhead Coastguard.
The kayakers were off Point Lynas when a member of the public reported that they needed help.
The couple were both wearing wetsuits which protected them from the cold.
Mark Craddock, the Holyhead Coastguard watch manager, said the rescue demonstrated why kayakers were recommended to carry handheld flares, a VHF radio and a charged mobile phone.
"The two kayakers had spent 40 minutes in the water trying to get back to their kayaks and attract attention," he said.
"Luckily for them they were spotted by a member of the public at the Port Eilian caravan site and so we were able to get them the help they needed.
Mr Craddock said kayakers should tell both the coastguard and a contact on shore where they are going and when they are leaving so that rescuers could know where to begin looking if they do not come back.
He also urged them to check the weather and tides beforehand.