£40k grant saves jobs and seabass, says Edwina Hart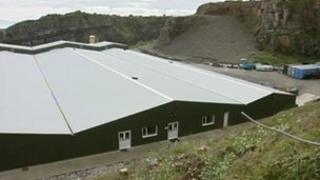 The Welsh government says a £40,000 grant has saved 32 jobs and millions of farmed fish on Anglesey.
Enterprise Minister Edwina Hart said the cash paid for oxygen to be pumped to seabass being raised at the former Selonda (UK) plant at Penmon.
Mrs Hart said the payment last month kept the fish alive while the firm was bought by Anglesey Aquaculture.
The fish farm, established in 2002, produces 1,000 tonnes of sea bass every year.
Future secured
In a letter to the Tory AM Antoinette Sandbach, Mrs Hart wrote: "In November 2011, Selonda (UK) Limited approached the Welsh government regarding its cash flow difficulties, following technological and production problems encountered last summer.
"The Welsh government made a one off payment of £40k to the suppliers of air products for the site in December 2011.
"This enabled the company to keep the current stock of fish alive in the short term whilst alternative arrangements for ownership of the site were explored with administration Pricewaterhouse.
"The seabass farm has now been sold to Anglesey Aquaculture Ltd who now own and manage the site securing both the facility and the jobs."
Mrs Hart added the new owners had been made aware of their animal welfare and environmental obligations.
In October 2011 the previous owners Selonda (UK) pleaded guilty to permitting the discharge of "trade effluent and chemicals" in a prosecution brought by Environment Agency Wales.