E. coli closes Tri Ceffyl Bach nursery on Anglesey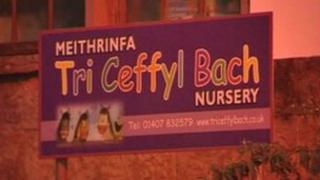 The owners of a nursery on Anglesey at the centre of an E. coli outbreak say they are closing the business.
The number of cases of the infection has risen to six.
Tri Ceffyl Bach Nursery in Amlwch was closed by officials as a precaution a week ago.
The owners say due to the impact of the outbreak they have decided to close indefinitely and thanked parents and staff for their support.
Investigations into the source of the outbreak are ongoing, but health officials said it was difficult to determine when children are involved.
So far 58 people have been tested with tests being offered to anyone associated with the nursery.
Negative publicity
The nursery confirmed to BBC Wales it would not reopen but declined a request for an interview.
But, in a statement to the Daily Post, the owners said: "Due to the recent E. coli outbreak, we have made a decision to close the nursery indefinitely.
"While we maintain the circumstances have been out of our control, the strain - financially and emotionally - has had a massive impact on us both, and we feel that too much negative publicity has happened to allow us to continue."
About 80 cases of E. coli O157 are diagnosed each year in Wales.
Public health officers and environmental health teams from Betsi Cadwaladr university health board and Anglesey council are investigating the cause of the outbreak.
Providing advice
Symptoms of E. coli O157 range from mild diarrhoea, stomach cramps and fever to severe bloody diarrhoea.
Dr Chris Whiteside, of Public Health Wales, said: "Given the nature of this infection it is not unusual for more cases to be identified amongst children attending the nursery.
"This is why the nursery was asked to close and the children and staff were asked to be tested.
"Investigations into the source will continue. However, it can be difficult to identify a definitive source in an outbreak like this because the bug is so easily spread where young children are concerned.
"Considerable effort is going into providing advice and collecting information locally that will help control this outbreak
"People can become infected with E. coli O157 by eating contaminated food, or through contact with infected people, farm animals or contaminated water.
"It is important to re-enforce the message that this infection can be passed from person to person and so anyone who is ill should observe strict personal hygiene to avoid spreading the infection."