SOS loudspeaker for A55 road tunnel near Penmaenmawr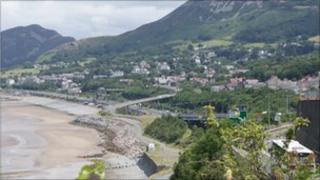 A loudspeaker system is to be installed in a heavily-used north Wales road tunnel to help in an emergency.
It is the first in a tunnel in Wales, and will be used to order people out of their cars or give them messages in a dangerous situation.
Work will begin soon on the £365,000 system on the A55 at Pen y Clip near Penmaenmawr in Conwy, Wales' second longest tunnel.
Nearby Conwy and Penmaenbach tunnels will have systems in future.
Conwy is the longest at 1,080m (3,543ft) but Pen y Clip, which measures at 930m (3,051ft), was given priority because Conwy has two separate tunnels, with connecting doors between them, and it is easier to evacuate them if necessary.
Work will be carried out over 12 months during routine overnight maintenance closures.
In June, the A55 had to be closed in both directions due to a camper van on fire in Conwy tunnel, causing tailbacks.
The Brynglas tunnels on the M4 at Newport in south Wales was also closed after vehicle fires in February and July this year.
But officials said Brynglas was not currently being considered for a similar PA system because it is much shorter and straighter, and so easier to evacuate in an emergency.
The PA system is part of an overall £4.8m investment in trunk roads across Wales announced by the Welsh Government in January. There are no plans to install in any tunnel in Wales other than the three in Conwy.
As well as the public address system at Pen y Clip there will be improvements to the emergency signs and lighting.
"The PA will be an aid to informing drivers and passengers to evacuate their vehicles and the tunnel in the event of a fire or another serious incident, or pass on other important messages," said a spokesman.
Because the system will only be used in an emergency, the use of both Welsh and English will depend on which staff are on duty at the A55 control centre.
"Every effort will be made to make the announcements bilingual, but safety is the priority," said a spokesman.
There are plans to eventually install a PA system in the Conwy and Penmaenbach tunnels, he added.