Caernarfon Castle Square parking ban for many motorists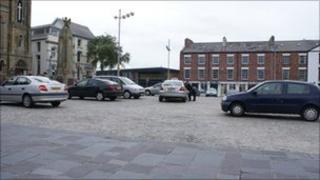 Parking is being banned in Caernarfon Castle Square in a bid to solve road safety issues.
Only blue badge holders, taxis and coaches - for drop offs - will be allowed to park at Y Maes under a new experimental traffic order.
Caernarfon Castle Square has been given a £2.4m facelift leaving some unhappy about the degree of consultation.
But Arfon Access Group, which has campaigned for the changes, say they are a step in the right direction.
The new traffic order will be in place for 24 hours a day, seven days a week.
There will be eight designated spaces for blue badge holders.
Taxis will be able to park at the rank and coaches will be able to drop off in the bus drop-off point.
The Arfon Access Group's secretary, Vin West, said things had improved since the group complained in 2008 about a lack of consultation when the work on the square began.
Mr West, who is a full-time carer for his daughter who uses a wheelchair, said originally there was nothing to stop parking on the square, which could create problems with parked cars, pedestrians and through traffic.
He said of the new traffic arrangements: "We aren't entirely happy, but it is better."
"It is always difficult with any shared space - there is always conflict when you have drivers and pedestrians sharing the same space," he added.
Mr West said that the lack of raised pavements and kerbs created problems, especially for the visually impaired who rely on a dog or a white stick.
"If people haven't got experience of a disability they don't get it," he said.
"But we are getting there slowly, and Gwynedd council are listening," he added.
Gwynedd Council's senior environment portfolio leader, Cllr Gareth Roberts, said the changes to the parking arrangements had been made after consultation.
"Following comments from members of the public regarding parking on the Maes in Caernarfon, the council has decided to introduce new parking arrangements," he said.
"The new arrangements will be monitored over the next 18 months and if they work well, we will take steps to make the changes permanent," he added.
In another scheme to resurface the main route for vehicles in the square, sub-contractors are having to relay the road surface after problems were identified. A council spokesman said there would be no additional cost for the resurfacing work, which will be carried out after the summer to "minimise disruption as much as possible".