Wrexham patients protest about GP staffing levels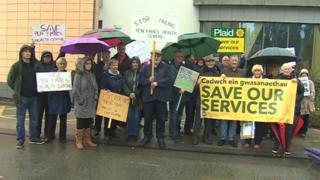 Patients from GP practices in Wrexham have staged a protest outside a meeting of the local health board to complain about staffing levels.
They claim a reliance on locum doctors means the number of GPs available to see patients varies from day to day.
The protest was organised by patients of Pen-y-Maes surgery, which is one of a number now run by the Betsi Cadwaladr University Health Board (BCUHB).
The health board said steps were being taken to improve staffing there.
Since 2015, the health board has taken over the running of seven GP practices across north Wales after they terminated their NHS contracts.
Gwersyllt West councillor Gwenfair Jones said patients are "very concerned" with the services they are receiving.
"It's a big, big problem. It's not just in Gwersyllt," she said.
"A lot of the other practices now are being taken over by the health board and it's going to affect over 30,000 people in the Wrexham area.
"There is going to be a death and nothing is being done regarding patients who are diabetic - they are not having their follow up appointments," she said.
Jane Conroy, a patient at the Pen-y-Maes surgery told BBC Wales said she was concerned about difficulties getting through to the surgery to make an appointment.
"I actually tried 72 times to get an appointment the other day. I did get one in the end, but when you're not well that's the last thing you want to do."
Gary Doherty, the health board's chief executive, said: "I appreciate that we have not always been able to offer the service we want to, particularly in terms of GP availability and it was clear this was a major concern for residents."
He said an extra practice nurse and healthcare support worker had been recruited and the board was interviewing for an advanced nurse practitioner.
"This is part of developing more modern and flexible services," Mr Doherty said. "This also includes having highly qualified practitioners like prescribing pharmacists and prescribing nurses available to see patients."
He said recruiting and retaining GPs was an ongoing challenge nationally and added: "Until we have filled the permanent, salaried posts, we will continue to use locum GPs to ensure people get the quality of service they expect and deserve."
Mr Doherty said: "We know there is more work to do and that is why I committed to contacting a number of patients directly in the coming weeks to discuss this further after we spoke today."