Network Rail says Johnstown crossing could close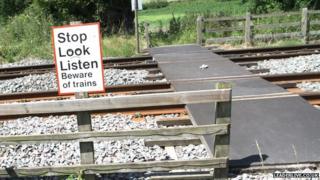 A level crossing near to where a teenage girl was killed seven years ago, could now be closed.
Victoria Swift, 14, was hit by a train near the crossing in Johnstown, Wrexham, in 2007.
Johnstown councillor David Bithell said two girls survived a "near miss" on the crossing last week.
He welcomed confirmation from Network Rail that the crossing has been identified as "potentially suitable for closure".
Cllr Bithell said Victoria Swift accessed the train track through the crossing when she was hit and killed by a passenger train.
He added: "Following the incident in 2007 where Victoria Swift was killed, it's been relatively quiet since then - up until now.
"The local authority is working with network Rail to close the crossing. It's in a dangerous place and poses a significant risk."
Network Rail said the possible closure of the crossing had been considered for some time, and was not in response to last week's near miss.