National poet honours mighty Pontfadog Oak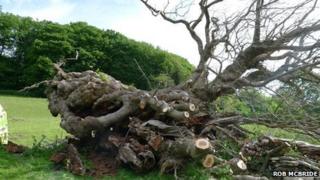 The Pontfadog Oak watched over Pontfadog near Wrexham for 1,200 years surviving battles, fires and two world wars until it was eventually felled by a gale last year.
What is thought was Britain's, and possibly Europe's, oldest tree is now the subject of a poem by the National Poet of Wales.
It recounts the history the oak has witnessed including Welsh prince Owain Gwynedd rallying his army under it before defeating King Henry II at the battle of Crogen nearby.
Poet Gillian Clarke also hopes her work will serve as a warning about the future of other historic trees.
"It stood over some huge events in Welsh history, but the Ponfadog Oak itself wasn't just a piece of history," she said.
"Even though it looked very decrepit and hollow, it was still producing annual rings, and on the very day it fell it was making fresh shoots.
"So it was very much still a living thing, and with just a few thousand pounds' worth of investment it could still have been there today.
"For a tree to live for a thousand years or more is so rare. We ought to be doing everything which is needed to ensure their survival - if it needs a strut, it should get one."
Currently ancient trees are covered by tree protection orders.
'Valuable habitat'
But unlike the protective status awarded to historic monuments, there is no financial assistance available to help owners carry out work on endangered trees.
Angharad Evans of the Woodland Trust said: "We believe that this sad case illustrates how we are failing to provide adequate protection for our ancient trees at present.
"Ancient trees provide valuable habitat, with up to a fifth of woodland species depending on dead or dying wood for all or part of its lifecycle.
"Their removal seriously reduces opportunities for species to move from one tree to another and could lead to local extinction, causing a significant decline in biodiversity."
Since the demise of the Pontfadog Oak last April, the Welsh government has set up a task force to investigate strategies for better protecting ancient trees, which is due to report back later in the year.
But while it was a significant landmark in Welsh history, Ms Clarke said it was the individual, private memories which were really what made the oak so special.
"It was huge - you struggle to imagine the size of it," she explained.
"The hollow inside was a favourite meeting place for young lovers and a hideout for fugitives down the centuries.
"In the 18th Century there was even a party held inside, complete with tables and chairs."