Bailey Hill friends group needed to manage Norman site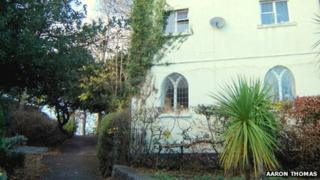 Plans to transform an 11th Century Flintshire landmark depend on community volunteers coming forward to oversee the work, it has been claimed.
Mold town council is looking for people to help manage the Bailey Hill Norman site as a bid for a Heritage Lottery Fund grant goes forward.
Flintshire council is making the application but needs a community group to decide how the money is spent.
A meeting to set up the Friends of Bailey Hill took place on Tuesday.
Mold town clerk Samantha Roberts told BBC News a full survey of the site had been carried out a few years ago and recommendations for the motte and bailey site made, but it would be up to the group, once established, to decide what changes to make.
"We don't really know at this stage what will be done but it will be about improving the visitor site," she said.
"It could include improving access, improving the children's play area, and improving the area where the motte and bailey is.
"There is a suggestion in the report that a visitor centre is set up and a cafe."
Metal theft
The lottery bid has not been made yet but Ms Roberts said it would be in the region of £1m.
She added: "It's not a 100% grant so part of the group's responsibility will be to ensure match funding and to make sure activities are carried out at the site and the money is invested.
Last year a lodge at the site was renovated after suffering £35,000 worth of damage following metal theft.
The 100-year-old building has since been rented to new tenants who are responsible for opening and locking the gates every day.
The site includes a playground and bowling green as well as a gorsedd or stone circle used to mark the National Eisteddfod when it was hosted in the town in 1923.
Following the survey a heritage trail has been created and the site is also used as an open-air venue for the annual Bailey Hill festival of culture in June.