Ruthin art trail aims to bring in extra tourists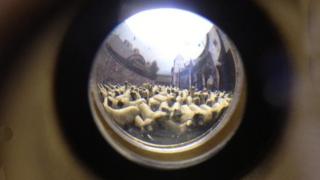 A £250,000 art trail is being launched aiming to attract tourists to Ruthin in Denbighshire.
The trail starts at the craft centre - the site of the old rail station - which already brings in 90,000 visitors each year.
Ten spy holes and 22 figures on buildings and roofs give a flavour of the town's history and folklore.
The trail has been set out with oak benches and newly-planted trees to encourage visitors to explore further.
The ten "spy holes" include depictions of Ruthin's old livestock market, a tribute to those commemorated at the town's cenotaph, the execution of a Catholic priest on the square in Tudor times, and the myth of a wild dog.
'Where's Wally?'
Visitors who follow the new trail will be led up Market Street, across St Peter's Square, taking in the wrought iron gates to the church, down Clwyd Street to the Old Gaol, back up Upper Clwyd Street, along Castle Street, Record Street and Wynnstay Road to Market Street.
Artist Lucy Strachan, from Pewsey, Wiltshire, who designed the installation with her husband Fred Baier, added: "The trail was devised to be about looking at and discovering the town because Ruthin is so lovely and has so many treasures on it.
"The 22 small metal figures have been devised so that you really have to look for them and they're up where the roofs join the buildings because that's where much of the more decorative architecture is."
"We wanted something that all ages could enjoy and so it's a bit like Where's Wally but it has a quiet impact on the town where a lot of public art is more in your face."
The artists consulted a former secondary school head teacher and local historian about Ruthin's heritage and legends.
"We had a lot of help from Roger Edwards and he actually features in one of the spy holes as a little boy because he told me the story of how as a child he remembers the street there being full of sheep on market day," added Ms Strachan.
"He was fantastic and had such a fascinating insight into the town and walked round it with us.
"We hope everyone gets something from it and that it does what it was meant to do and brings town and Craft Centre closer together."
The trail also has an accompanying audio guide and has been largely funded by Arts Council of Wales and European funding.