Action to repair storm damaged Gronant Dunes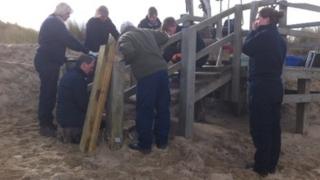 Experts are considering how to repair storm-damaged sand dunes which are a frontline flood defence for the Flintshire coast.
Rangers say sections were "ripped" out in a tidal surge which also flooded homes at nearby Rhyl in December.
They are in talks with Natural Resources Wales (NRW) about how best to rebuild the defences which take years to develop when managed naturally.
There is concern another high tide could cause further damage.
Work has started to restore broken and missing boardwalks and platforms at Gronant Dunes and Talacre Warren since the biggest storm surge in years hit in December.
Flintshire ranger Mandy Cartwright said: "As the tide came up it ripped the frontal dunes out and created this strand line with lots of litter inside.
Tidal threat
"It did damage steps, board walks and platforms which we are currently repairing.
"We are not out of the woods. Possibly into April we could have high tides with storms behind so we are holding off on the fencing because it is a huge cost to replace them all."
She explained that the shingle beach became sandy when the dunes were hit and subsequent tides have been washing that sand away and that could "halt the natural processes" which lead to further dunes being created.
"We are looking at that at the moment with Natural Resources Wales to see how we can stabilise the front of the dunes," she said.
"When the tourists arrive and they are running around the dunes means they could erode them further and then there is potential for breaches of the next high tide to come through.
"We are quite conscious that this is our natural sea defence and we need to maintain it for that as well as wildlife."