Glyndwr University students kicked off course lose legal fight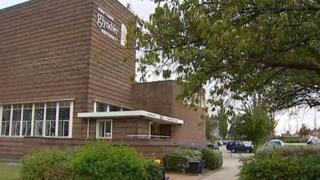 Thirty-three international students kicked off their course for not doing enough work have lost a legal fight to challenge the decision by officials at Wrexham's Glyndwr University.
They took out a High Court injunction to stop the university from taking away their immigration visa sponsorship.
But a senior judge in London rejected their legal challenge and ordered they each pay £500 in legal costs.
The university has welcomed the ruling.
The accountancy students, who were mainly from Asia, were part of a wider group of 56 who were accused of poor attendance or not signing up for enough modules.
Mr Justice Blake rejected their legal challenge to the university's decision-making process and he cancelled a previous injunction which had prevented the university stripping the 33 of their immigration sponsorship.
Poor attendance
The decision means their status in the UK will be reviewed by the Home Office, which will decide whether or not they can stay.
However, there was a reprieve for another 23 students, who were told their cases would be looked at again by course officials.
In a two-day hearing in London, the students' barrister, Al Mustakim, told the judge that they had all paid for their courses and travelled to the UK to study at a school in London, but registered with Glyndwr University.
They were given only minimal time to respond when they received letters informing them of their poor attendance or failure to sign up to enough courses, the barrister said.
The university said that in order to remain on their courses and have their sponsorship maintained, they had to attend at least 80% of lessons and sign up for three courses per term.
After the hearing, university pro vice chancellor Prof Allan Howells said the institution took its responsibility to its international students seriously, including its obligations as one of the Home Office's officially recognised "highly trusted sponsors".
"We have agreed to offer some students the opportunity to make further representation to be considered at the next stage of the review process," he added.