Police calm angry crowd at Wrexham's 99p Stores sale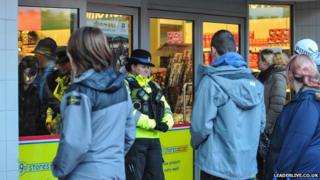 Police were called to a discount store to calm angry shoppers chasing 50p bargains in a closing down sale.
The 99p Stores in Wrexham was temporarily closed after crowds of shoppers flocked to a half-price sale which was advertised until 28 January.
However, many became angry and refused to leave when staff put prices back up to the full 99p price.
The company apologised for any misunderstanding over pricing and said the shop and 30 jobs were now safe.
Nathan Rowden, chief reporter for the Wrexham Leader, witnessed the incident on Monday and said the store was "chock-a-block" with people, some of whom had queued for two hours.
He said many reacted with "outrage" when they were told the goods had risen to full price.
He told BBC Radio Wales: "I could see through the windows there were customers remonstrating with staff."
At one point he said about 50 people were outside the store trying to get in, but were prevented from entering.
He added: "They were letting people out but not in. People were coming out shouting, visibly very angry about it."
'Very crowded'
Mr Rowden said the company's chief operating officer had told him the store was due to close on 28 January, so prices were reduced to clear stock.
However, a new lease was negotiated with the landlord on Monday morning and the sale ended at midday.
The retailer has apologised for the "unfortunate misunderstanding in relation to closure sale posters that advertised products at 50p".
The company confirmed the store had been scheduled to close before a new lease was agreed.
"After last minute successful negotiation with the landlord we were able to save the store and the 30 jobs within in store," said Tony Brown, chief operating officer.
"The instruction to the stores to terminate the sale was not intended to be with immediate effect. We have rectified this internally," he said.
The company said it had honoured the 50p sale prices for customers in the store on the day.
A North Wales Police spokesman said: "We were asked to help out because the place became very crowded.
"The officers stayed until the situation calmed down."