Clwyd Leisure meeting over leisure sites funding cut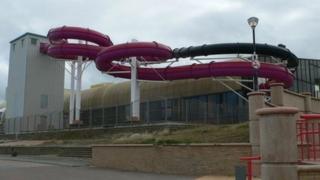 Trustees have met to discuss the future of three Denbighshire seaside leisure sites after councillors decided to withdraw £200,000 in funding.
Clwyd Leisure said it will not be able to operate its facilities, such as Rhyl's Sun Centre, without the subsidy.
It has asked Denbighshire council to take it over, along with Prestatyn's Nova Centre and the North Wales Indoor Bowls Centre.
Trustees have taken legal advice and a staff meeting is being held on Friday.
The council said it was withdrawing cash support from April.
Clwyd Leisure is a not-for-profit trust set up by Denbighshire in 2001 to run facilities on its behalf, but last year the trust warned repeated council cash cuts could not be sustained.
Denbighshire council said the trust knew about the phased cuts three years ago, but the trust said that if a planned cut of £50,000 went ahead then it may have to shut facilities.