Status Quo booked for Llangollen International Eisteddfod 2014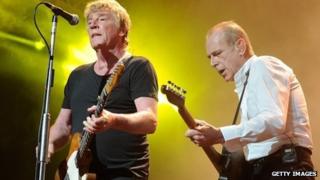 Past performers have included Luciano Pavarotti and José Carreras but now the guitar riffs of Status Quo will be 'Rockin' All Over the World' at the Llangollen International Musical Eisteddfod.
The festival has been more associated with a classical repertoire since 1947.
But its musical director said it "celebrates all type of music".
Eilir Owen Griffiths said he was "quite comfortable" about Quo, while the band said it was "excited".
Lead singer and guitarist Francis Rossi said he was told about the "magic" of the event by Jools Holland who starred at last year's event.
"Jools told me he did the Eisteddfod and what a brilliant place and atmosphere it was," Rossi said.
"He also explained about the event's history and that excites me."
Other headline acts this year include opera star Bryn Terfel and Dutch jazz act Caro Emerald.
Having Quo - who had their first hit in 1968 - top the bill on the last night is aimed at attracting new audiences.
"We've created a festival within a festival called 'Llanfest' and this is a great headlining act for ending the week," Eilir Owen Griffiths told BBC Radio Wales.
The International Musical Eisteddfod brings performers from all over the globe but has dipping into the world of pop and rock a little in recent years to boost numbers.
This included boy-band McFly two years ago.
Mr Griffiths said that was before his time, but added: "I think it feels quite comfortable to go with Status Quo after going for Jools Holland in 2013.
"I work in the University of Wales Trinity St David, in Carmarthen, and I tried out some of the names I was considering for 2014 and Status Quo was in the mix.
"It was interesting for me to see 18 and 19-year-olds going 'Wow, Status Quo, I'd really like to go and see that', probably because they listen to Status Quo with their parents."
He added that the classical element of the event would still be as strong as ever with Bryn Terfel performing Sweeney Todd.
There will also be an opportunity for upcoming stars.
"We're doing a search for the three young characters in that production, so three young actors will be given the opportunity to perform with Bryn Terfel."