Centenarian Tom Marsden marks 100th birthday at the gym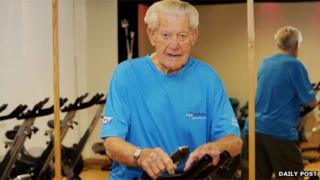 Most centenarians celebrate their milestone birthday by taking it easy, but not a 100 year old from Denbighshire.
Tom Marsden, from Rhyl, hits the gym at Rhyl Sun Centre three times a week to run, row and lift weights.
The pensioner, who only gave up scuba diving at 90, said he owes his good health to porridge, bacon butties and plenty of exercise.
"I don't like sitting around - I've been cursing this weather," he said.
When he turned 100, Mr Marsden was made an honorary instructor at his gym.
"It's not just at this stage in my life I've decided to go to the gym, I've been doing it for years," he said.
"I've been going to the gym here for at least 12 years."
Mr Marsden usually spends 20 minutes on the treadmill, 20 minutes on the rowing machine before lifting weights.
In his younger days, father-of-one Mr Marsden used to race cars and motorbikes.
"I've always kept fit, I've never drunk and I've never smoked," he said.
'Plenty of exercise'
"I'll sometimes have a shandy to be sociable."
Mr Marsden, who celebrated his birthday on 15 November, has always maintained a healthy lifestyle.
"I have porridge and a bacon butty every morning and in the evening I have a lamp chop with potatoes, cabbage and vegetables," he said.
"Last night I also had a little Christmas pudding."
Mr Marsden wants to keep going to the gym for as long as possible and will not even let two knee replacements to stop him.
"They told me to take plenty of exercise and I laughed - I couldn't possibly do anymore."