National Eisteddfod, Denbigh: Pink pavilion hoisted into place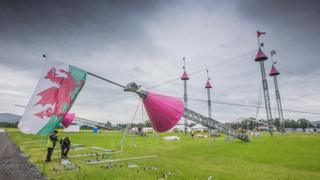 The National Eisteddfod's distinctive pink pavilion is being hoisted into place in readiness for the start of next month's event in Denbigh.
Work erecting the pavilion on Kilford Farm on the outskirts of the town is expected to be finished on Wednesday evening.
During the eisteddfod it will host competitions, ceremonies and concerts.
This year's week-long event starts on 3 August.
National Eisteddfod chief executive Elfed Roberts said: "Last held in Denbigh in 2001, the support and generosity of local people and volunteers has been tremendous over the past two years while we've been working locally.
"The erection of the pink pavilion - an iconic symbol of the culture of Wales - is a further sign that the preparations for the week are coming together well and we're all looking forward for a week to remember at the beginning of August this year."
The eisteddfod field, or maes, will be home to around 300 stands and exhibition spaces.