Welsh church law's 450th anniversary marked at Denbigh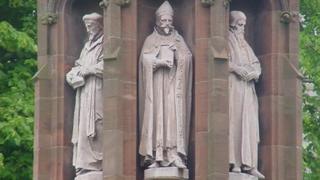 A service celebrating 450 years since a law allowed the Bible to be translated into Welsh has been held.
In 1563, Elizabeth I introduced a law which required Welsh churches to hold Welsh translations of the Book of Common Prayer and the Bible.
Some historians believe the legislation protected the future of the language.
The anniversary was marked in Denbigh where an MP during that period helped to steer the bill through the House of Commons.
Dr Wyn James, a lecturer at the school of Welsh at Cardiff University, explained that the Bible in Wales was taught first in Latin and later in English which many people could not understand.
But with a change in monarch came the decision to encourage Welsh-speaking communities to hold services in their first language.
Denbighshire scholar William Salesbury had already published a Welsh translation of the main texts of the Prayer Book.
And a translation of the whole Bible was published in 1588 by St Asaph Bishop William Morgan.
It is these translations which are said to have standardised the Welsh language.
Dr James said: "Welsh, as with any other language, has dialects... but what you had with the Bible and Common Book of Prayer, you had a standard language which everyone could understand."
The celebration took place at St Marcella's church, also known as Eglwys Wen, where the town's MP, Humphrey Llwyd, is remembered.