Wrexham Power gas plan concerns prompt public meeting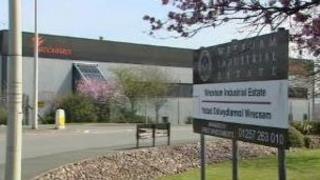 Residents concerned about an £800m plan to build a gas-fired power station in Wrexham are being invited to a public meeting on the issue.
Wrexham Power says it could create up to 1,200 construction jobs and 50 permanent posts on the proposed site at Wrexham Industrial Estate.
An action group says members have "many reservations" about the proposals.
Bangor-on-Dee Community Council is hosting a public meeting to discuss the issue.
It comes after some people said they were concerned about pylons that could be erected through the surrounding area to link the plant to a sub-station 10km (6 miles) away, while others question the suitability of the site.
The firm has said that people's views will be considered as part of its consultation process.
Last year it unveiled its plans to build a gas-fired plant on the industrial estate, saying it would be big enough to provide power to 1.25m homes.
But residents in some communities like Bangor-on-Dee are concerned about the implications for such a development in their area.
Consultation phase
"This power station will only bring benefit to the people behind it," said Stephen Whitby, chair of Wrexham Residents Against Power Scheme (Wraps).
"This thing will be seen for miles," he told BBC Radio Wales regarding the scale of the development.
The company said the industrial estate was selected as it is one of the biggest in Europe with 300 companies - employing 7,000 people - which all needed power as well as having access to excellent transport links.
The initial announcement was made after the industrial estate's £30m relief road was opened in July 2012.
Then a group of residents from Bangor-on-Dee and the wider area set up Wraps to make their views known.
Community councillor George Tranter said the authority was using Monday's meeting to gauge residents' views while the council formulates its own opinion.
"It might be a protest meeting or one where people share their views," he said.
The proposals are still at any early stage and have not been submitted to Wrexham planners.
Wrexham Power has said it is still in an early informal consultation phase.
Spokesman Mark Brown told BBC Radio Wales' Good Morning Wales that the company was obliged by law to provide a transparent process of consultation before a decision can be made, which could be two years away.
The public meeting is due to take place at Bangor-on-Dee Village Hall on Monday at 19:30 BST.