Catherine Gowing memorial service for murdered vet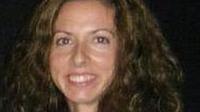 Friends, family and colleagues have paid tribute to a murdered Irish vet at a memorial service in Flintshire.
Catherine Gowing, 37, who had been living in New Brighton, near Mold, was killed last October.
Her housemate's boyfriend Clive Sharp, 46, was sentenced to life in jail after admitting her murder.
People who attended the service in Buckley shared memories of Miss Gowing, who was described as a lovely person with a great sense of humour.
Colleagues at her veterinary practice in Mold organised Saturday's service at Our Lady of the Rosary Catholic Church.
Carole Davies, a friend and colleague at DE Evans Veterinary Practice, said they wanted to hold the memorial service as they felt their memories of Miss Gowing had been overshadowed by her murder.
"Catherine's personality got lost," she said.
She added that they had wanted to hold a "happy service" to remind people of her.
During the service, friends shared memories of Miss Gowing, while some of her favourite songs were played.
A children's choir from St David's Catholic School in Mold sang The Lord Is My Shepherd and All Things Bright and Beautiful.
Book of remembrance
A mixed adult choir also sang the Welsh hymn Calon Lan, which Miss Gowing told colleagues she loved but did not understand after hearing the choir Only Boys Aloud perform it on ITV's Britain's Got Talent.
After the service, more modern songs including Aerosmith's I Don't Want to Miss a Thing and the entire soundtrack to the Abba musical Mamma Mia were played as people had tea or coffee in the church hall.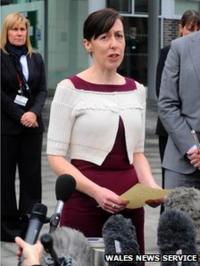 Miss Gowing's sister, Emma MacGuire, who attended with her husband Shay, said the family were deeply grateful for all the love, care and kindness the people of north Wales and North Wales Police had shown them.
"The service today has been such a beautiful representation of my sister," she said. "She is here with us in spirit today."
Miss Gowing was described by Father Francis Doyle as a good friend and colleague to so many, who was down to earth, with a great commitment to help her clients and their animals.
He said she had made a tremendous and lasting impression.
"Catherine had a great love of God's creatures," he added.
Staff at the surgery also presented Miss Gowing's family with a book of remembrance, which had been signed by colleagues and clients.
Ms Davies said staff were still grieving for their colleague.
"We still feel it very badly every day and our clients do too," she added. "She really was popular."
Miss Gowing had lived in New Brighton for about 18 months before her disappearance.
Sharp, of Bethesda, Gwynedd, was told at Mold Crown Court he would serve a minimum of 37 years in prison for murder and rape.
More than 300 people attended the funeral of Miss Gowing in Kinnitty, County Offaly, in January.