Faith school merger at St Brigid's and Blessed Edward Jones go to consultation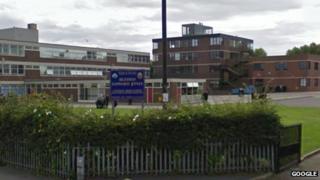 A consultation about merging two faith schools in Rhyl and Denbigh has been agreed, despite some opposition.
Denbighshire Council has been in talks with church leaders over the future of Blessed Edward Jones Catholic High and St Brigid's.
The new school would operate on existing sites from 2014 before building on a new location within five years to create a mixed faith site.
The plan is establish a new dual faith school for Anglicans and Catholics.
Councillors agreed to start a public consultation over the Catholic school mergers and mixed faith new site from next month.
A report to the cabinet committee says it has held concerns over the "sustainability of the existing status quo for faith education in north Denbighshire" as it was essential to ensure faith provision was maintained.
It said it entered talks with the Catholic Diocese of Wrexham, the Church in Wales Diocese of St Asaph as well as trustees of St Brigid's School to discuss a way forward due to falling pupil numbers and surplus places as well creating a mixed faith site.
Informal consultations with parents, pupils, teachers and governors on the idea of building single Catholic school were held over an eight week period in December and January.
The proposals angered many parents, mainly at St Brigid's, where an action group has been set up to fight the plans.
Consolidated
Members of St Brigid's School Denbigh Against Closure say they want their school retained.
Before the meeting, Councillor Eryl Williams, lead member for education said: "Our proposal for a new joint faith school is an important part of ensuring the county can sustain quality education into the future."
If approval is given formal consultation would take place from June.
And if those plans get the go ahead then the schools would close in August 2014.
The new joint faith school would open in September with the Rhyl site at the former Blessed Edward Jones Catholic High School operating as an 11-16 school.
The Denbigh site would operate as an ages three to 18 school.
The second phase of the proposals would see the existing provision consolidated on a new site in the Rhuddlan and Bodelwyddan areas.