Flintshire primary school meals shake-up to cut costs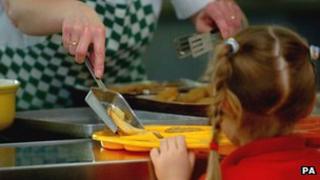 Flintshire council is in talks with trade unions to cut hours of part-time catering staff at the county's primary schools to save about £100,000 a year.
A review is also looking at ways to reduce over-production of meals and to use an online system for parents to book and pay for children's dinners.
The council said it hopes to minimise any impact on its workers.
The authority has to make cuts of £29m over the next five years to balance its books.
The union Unison's council representative Sarah Taylor said the proposals would potentially cause staff a "massive amount of disruption".
Flintshire head of development and resources Tom Davies said: "Following initial consultations with the trades unions and the workforce to scope out the staffing review we are now in the second round of individual consultations with every member of the catering workforce across all primary schools.
"We are working closely both with the staff involved and the trades unions in order to minimise the impact of the review on staff."
A report to councillors last month said the aim of the review was to control and reduce costs and staffing overheads so the service is "fit for purpose and meets the needs of the council, schools, parents and pupils".
It is also looking at setting up an online facility for parents to pay for school items, including meals, in advance to improve efficiency and cut down on over production.
The review comes as the council seeks "organisational change" to find £29m in savings over the next five years due to cuts in funding.