Prestatyn family fire murders: Calls for fire exits review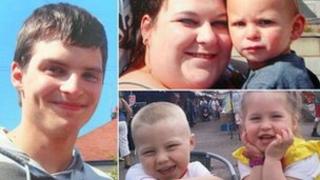 A review of regulations to ensure all homes have adequate fire exits has been called for after five members of a family died following a house fire in Prestatyn, Denbighshire.
Lee-Anna Shiers, her nephew Bailey, four, niece Skye, two, partner Liam Timbrell and son Charlie, one, died in the fire in their first floor flat.
Melanie Smith, 43, was convicted of five counts of murder after starting the fire by setting a pushchair alight.
A court heard the family were trapped.
Smith was given five life terms for the murders and was ordered by a judge at Mold Crown Court on Wednesday to serve a minimum of 30 years in jail.
Following the sentencing, calls were made for changes to the rules governing fire exits to be reviewed.
North Wales AM Llyr Gruffydd said sufficient fire exits were provided in new homes, but the regulations relating to existing houses should be reviewed to ensure they were appropriate.
He said during Smith's trial it emerged that one of the five killed in the fire had tried to escape from a first floor window but had failed to do so because it did not open wide enough to climb through.
The only fire escape in the house was through the front door which was blocked by fire.
Plaid Cymru's Mr Gruffydd said there was no suggestion that the family's flat broke any regulations.
"The death of five members of a family in Prestatyn is desperately sad and I think it would be right for the minister to look at the regulations to see if changes should be made to stop such an event happening again," he said.
"There is an expectation that a sufficient number of fire exits are provided in new homes, but the regulations relating to existing houses should be reviewed to ensure they are appropriate.
"When such tragic events happen, it is important that we try to learn lessons so that we can avoid such situations in future.
Driven back
"I hope the minister will act to ensure that Wales' planning regulations are sufficient to ensure safety."
The Welsh government has been asked to comment.
On the day of the fire in October 2012, Smith drank 10 alcoholic drinks and set fire to the pushchair using a lighter, trapping Ms Shiers and her family in their upstairs flat.
Neighbours in Maes y Groes made desperate attempts to rescue the family but were driven back by the fire's intensity and heat.
Ms Shiers and her young nephew and niece Bailey and Skye died in the fire, her son Charlie the next day, and partner Mr Timbrell three weeks later in hospital.
Before he died, Mr Timbrell told a paramedic Smith was responsible.