Prestatyn fire deaths: Melanie Smith to be sentenced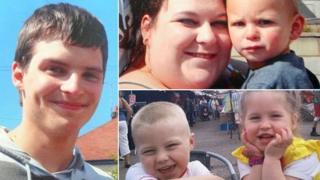 A woman who started a fire which killed five members of a neighbouring family will be sentenced later on Wednesday.
Lee-Anna Shiers, 20, her nephew Bailey, four, niece Skye, two, partner Liam Timbrell, 23, and son Charlie, 15 months, died in Prestatyn last October.
Melanie Smith, 43, started the fire in a row over Ms Shiers' pushchair, which was in a shared hallway.
She was convicted at Mold Crown Court of five murders and of threatening to burn another woman's home.
During her trial last month, the jury heard Smith was in dispute with Ms Shiers because the young mother-of-one left her son's pushchair in the downstairs communal hallway at the property where they both lived in flats.
She had previously made threats that she would set Ms Shiers' house on fire "with you and [your] kids in it".
On the day of the fire Smith drank 10 alcoholic drinks and set fire to the pushchair using a lighter. Ms Shiers and her family became trapped in their upstairs flat.
Neighbours in Maes y Groes made desperate attempts to rescue the family but were driven back by the fire's intensity and heat.
After he was rescued, Mr Timbrell told a paramedic Smith was responsible. He later died in hospital.
While giving evidence, Smith said she wanted to take a lie detector test and accused 21 witnesses, who testified against her, of lying.
After the guilty verdicts were given on 30 April by the jury of seven women and five men, Ms Shiers' parents, Joy and Peter, said they were "overjoyed".
Paying tribute to her family, Mrs Shiers, 45, said: "Anna was such a lovely, bubbly girl and Liam a very caring dad. Both of them were heroes because we know they would have done everything to rescue the children.
"The three kiddies loved each other, they played together all the time.
"They were our angels. Really, really nice people that will be missed."