'Horse hoarder' Clwyd Davies: Footpath users urged to contact police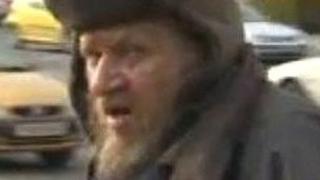 Police searching for a man who went missing after he was banned from keeping horses are appealing for help from users of a local footpath.
Clwyd Davies, 69, from Wrexham, became known as the "horse hoarder" and has not been seen since 7 April.
He went missing after appearing in court for neglect of horses he kept on his land at Trefynant Park in Acrefair.
People who regularly use the path between Tower Hill and Tref Y Nant Farm have been asked to come forward.
Mr Davies admitted neglect of six horses at Wrexham magistrates court on 5 April and was banned from keeping horses for five years.
The court ordered the removal of the remaining 22 horses by the RSPCA.
Mr Davies, who was featured in a Channel 4 TV documentary called The Horse Hoarder in January, was also ordered to pay £500 in costs.
Det Insp Arwyn Jones of North Wales Police said: "It will be four weeks on Sunday 5 May since Mr Davies was last seen and our investigation into his disappearance remains a priority.
"We would again ask members of the public who may hold any information that may assist the inquiry to come forward, particularly anybody who knows Clwyd, and who may have any information about his life or movements, past or present.
"We would ask any person who regularly uses the public footpath which runs from Tower Hill, Acrefair, towards Tref Y Nant Farm to come forward."
Det Insp Jones said police had received requests from members of the public keen to search for Mr Davies, but the help had been declined.
Mr Davies is 5ft 11ins (1.8m) tall, of heavy build and normally has a thick beard.
He usually wears jeans, a fleece top and woolly hat and is well known in the local community.
North Wales Police said people with information could contact them on 101 or Crimestoppers on 0800 555111.