Welsh Water face £2m damages over Flintshire paper mill supply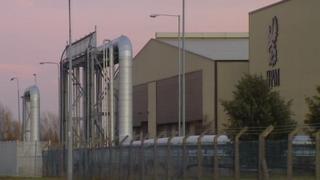 Dwr Cymru Welsh Water has been told to pay a rival firm nearly £2m damages in a dispute over supplies to a Flintshire paper mill.
The legal wrangle with Albion Water dates back to 1999 over charges to carry water to Shotton paper mill.
Albion claimed Dwr Cymru Welsh Water abused its control of the pipeline network by imposing excessive charges.
The Competition Appeal Tribunal found in favour of Albion in part of the claim.
Dwr Cymru Welsh Water was ordered to pay Albion £1.69m damages plus interest for anti-competitive charging for carrying water on its network to the mill.
The utility company was told to pay another £160,000 damages plus interest because it was deemed that Albion had lost the chance to bid for a contract to supply water to the nearby steelworks in Shotton.
However, the tribunal panel dismissed a £10m claim by Albion for exemplary damages.
The 128-page judgement brings an end to more than a decade of arguments between the two water companies.
Lost profits
The original dispute followed changes to legislation in the 1990s that allowed other water companies to bid for contracts to supply water, even if it was not on their network of pipes.
Albion became the very first company in England and Wales to use the new laws.
In the case of Shotton paper mill, water from the Dee estuary was extracted by United Utilities and then sold to Dwr Cymru Welsh Water, who then supplied the plant.
But Albion successfully won that supply contract, and in return had to pay Dwr Cymru Welsh Water a fee for using its pipes.
An earlier tribunal ruled that the charge made by Dwr Cymru Welsh Water was excessive - and the latest ruling now sets out how much it potentially dented Albion's profits.
Responding to the tribunal's judgement, Albion Water chief executive Jerry Bryan said: "This case sent a clear message to the industry that anti-competitive pricing is not acceptable."
However, Dwr Cymru Welsh Water said the ruling need to be "put in context".
"Dwr Cymru acted in good faith in setting prices in accordance with the [regulator] Ofwat guidance which was available at the time," said a spokesperson.
"It is also important to note the tribunal rejected Albion Water Limited's claim for significant exemplary damages and we are pleased that the tribunal recognised there was no deliberate attempt to set prices unfairly."
Dwr Cymru Welsh Water said the dispute also dated to a time before the utility had been acquired by Glas Cymru and set-up in its current form, as a not-for-profit company.