Rhyl car park booth removed to stop anti-social behaviour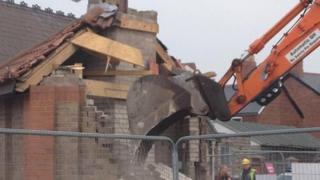 A building which attracted anti-social behaviour in Rhyl has been pulled down in a joint Denbighshire council and police operation.
The old car park toll booth on Morley Road had been a popular venue for drinkers to congregate.
North Wales Police previously used a dispersal order to move people on but said a permanent solution was needed.
Denbighshire council said removing the booth would make the area safer.
Jason Devonport, the North Wales Police inspector for Rhyl, said in good weather drinkers congregated around the structure.
"Despite its relatively small size, people sit on and around the brick base and drink, and this has been the case for some time," he said.
The action was welcomed by David Smith, Denbighshire council cabinet's lead member for environment.
"The demolition of this building and surrounding walls should contribute to a reduction in anti-social behaviour and provide a safer environment for local residents," he said.