FA Trophy: Wrexham defy snow to see Wembley win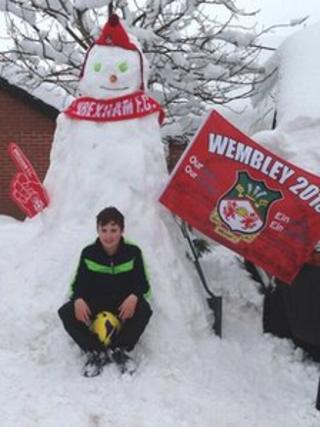 Wrexham fans defied heavy snow around the town to travel to Wembley for one of the most historic matches in the club's long history.
Snowfall of 10-20cm put some supporters' trips to Sunday's FA Trophy final against Grimsby Town in jeopardy.
But with many having spent Saturday digging out their vehicles, hopes were high that few would miss the Dragons' first ever visit to Wembley.
The faithful were rewarded when Wrexham won the game in a penalty shoot-out.
One fan tweeted their coach was in a minor collision near Oswestry.
A replacement bus was then said to have broken down before they climbed aboard a third bus and continued their trip.
Peter Jones, chair of Wrexham Supporters' Trust, said in advance of the exodus: "Obviously a lot of fans are snowed in up here, it's pretty horrendous.
"But we're going as planned, as far as the coaches are concerned.
"We've got 84 going from the club and there's independent ones too. I would say there's 150 [buses] going."
He said fans would be travelling from all over north Wales so there were concerns for those living in more remote areas.
"In fairness the main roads seem to be okay so it's a case of getting out onto the main roads," he said.
"We don't foresee too many problems as long as there's no more snow."
Welsh language TV channel S4C succeeded in a last-minute bid to broadcast the match because of the potential travel problems caused by the bad weather.
The FA Trophy final will be Wrexham's first visit to Wembley in the club's 149-year history.
Among those attending is 96-year-old Tom Hughes, a lifelong Wrexham supporter.
The retired paramedic from Hightown saw his first game in 1921 and he called the occasion a "one off".
Among other well-wishers are First Minister Carwyn Jones who said the team's achievement had been "fantastic".
"There is no escaping the fact the club has been on a turbulent journey in recent years, but fans have stuck with the team through thick and thin," he said.
"The Dragons' first visit to Wembley is an historic one and I look forward to the FA Trophy coming to Wales for the first time."
After the financial problems the club has suffered in recent years, the Wembley trip will feel like a reward for fans who have supported the club loyally since it dropped out of the Football League and into the Conference in 2008.
Wrexham Supporters' Trust took the club over in December 2011 so it is now completely owned by the fans.
"It's the first time [at Wembley] in 149 years of our history so it's a huge day for all of us," said Peter Jones.
"It's a fans' day out and hopefully will repay the fans' loyalty for the last 10 years we've had.
"Hopefully it will be a day to remember."
Wrexham are the fourth Welsh club to play at Wembley since February last year.
Swansea City won this season's League Cup, following on from Cardiff City's defeat last year in the same competition, while Newport County lost to York City in the 2012 FA Trophy final.